Although I've not a huge fan of Buffy I knew I had to try Sandy Santa the second I smelled it. I don't know how they did it but Sandy Santa smells of chocolate and fruit all at once. If you've ever had one of those chocolate covered oranges, think along those lines. It's fantastic.
On a side note though, don't use this in the tub. Had I been a little smarter and thought this out I would have realized that using a scrub in the tub wasn't going to be comfortable in the long run. I had little sand grains under my butt the whole time. Another reason not to use this in the tub, if you've got a jetted tub like me, it makes bubbles. This isn't usually a problem but Secret Santa didn't make bubbles and I was enjoying having the jets on.
Anywho, onto what I thought about Sandy Santa.
It was quite abrasive. I didn't expect it to be because you can see a lot of the exfoliants embedded in the bar and they don't look that big. I was a little shocked at how harsh it was in spots. My husband loved it though, I used it on his back later that night in the shower and he was in heaven.
I think the strangest part of the whole experience was when the red hat started melting. I actually thought I was bleeding for a second. Not that this has much to do with the product itself it was just a weird fact I noticed along the way.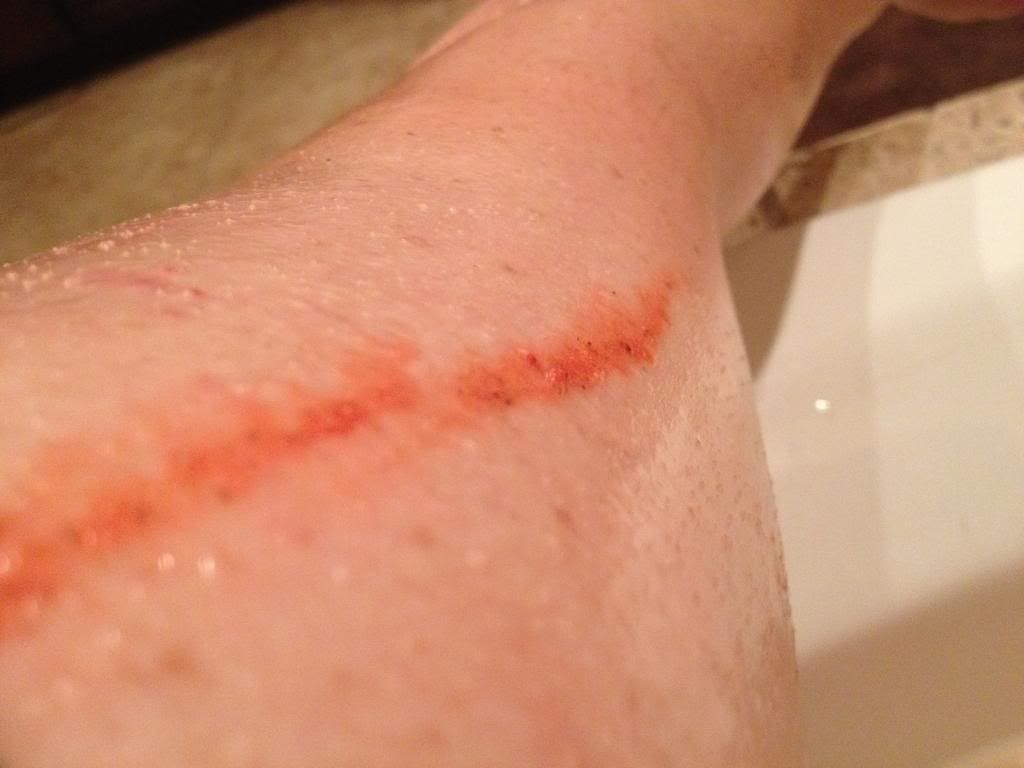 The odd red streaks the hat leaves on your skin.
All in all Sandy Santa left my skin feeling extremely soft, despite the cocoa butter that usually leaves me feeling weird, and it mixed with the Secret Santa scent and I smelled of a Lush shop that sold chocolate for hours.
Have you used Sandy Santa?
Do you find it comparable to Buffy?
What are your thoughts?